WHY SUSHI/JAPANESE CUISINE?
1. Tokyo, the most competitive area for restaurants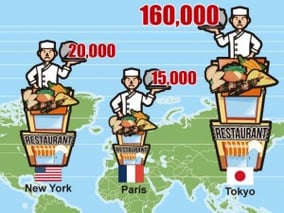 With the population of over 12 million and more than 150,000 restaurants, Tokyo is known as the most competitive area for restaurants in the world. The city features not only Japanese but also Chinese, Italian, French and Thai restaurants and you can enjoy high-quality dishes for prices starting at JPY500 (approx. $4).
2. Michelin acknowledges Tokyo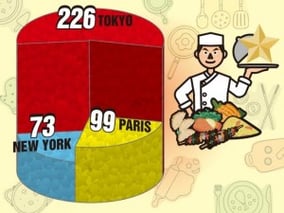 In 2015, 226 restaurants in Tokyo earned stars in the Michelin guide. The city leaves Paris far behind, which ranked second with 99 restaurants, and proves that it earned high reputation among gourmets.
3. Kappabashi-The Street of Restaurant Goods Suppliers

Kappabashi, famous as the Street of Restaurant Goods Suppliers, is located about 30 minutes by train from Tsukiji. The street is lined with shops of kitchen knives, fake display food or kitchen equipment and attracts those involved with food industry around the world. You can find restaurant equipment as well as tools for chefs.
4. Large-scale food events

Tokyo hosts large-scale food-related events, such as Foodex Japan, which is held in every March as the largest exhibition of restaurant business in Asia, or Japan International Seafood Show in August. The city enables you to build up your network within food industry.
5. Four seasons

By experiencing spring, summer, autumn and winter, you can feel seasonal essence of Japanese cuisine and sushi. This is the experience you can have only in Japan..
6. Your own activities in Japan

On the weekend and holidays, you can enjoy your own activities, such as skiing, taking a hot spring bath, viewing fireworks or cherry blossoms, joining hot pot parties or drinking at izakaya (a Japanese-style pub).